SKI ABILITY LEVELS
❅

❅ 

❅

Ski School Cervinia, Courmayeur
Italian Ski School Classification in Ski Ability Levels

Cervinia, Courmayeur, Champoluc
The ski ability levels in the Italian Ski School are set out by FISI (the Italian Federation for Winter Sport), in the technical text which represents the reference method in the Italian technical pathway of ski teaching.
Maestro di Sci is how it is called the ski instructor in Italy, where there is only one top qualification with no levels in between.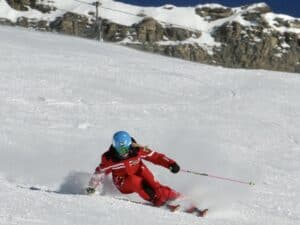 Everyone has different levels and achieves their goals at their own time, that's why it is crucial to find the perfect ski lesson for adults and children, according to individual abilities.
Many skiers are unable to define their own skill level, some classify themselves as experts, intermediates or beginners, without having clear simple guidelines that can help in understanding the various abilities.
Recently in the 2018-2019 season FISI introduced a new classification on more detailed levels (levels 1, 2 and 3 refer to old bronze, levels 4 and 5 refer to old silver, levels 6 and 7 refer to old gold).
SKI-UNLIMITED base assessment of the students on the guidelines of the Italian Ski Instructors Association, specifically on 3 levels to determine the skiing skills of each skier.
Ski School Cervinia, Courmayeur, Champoluc

Check Your Ski Ability Level!
First Time Skier
Never Skied Before or is not yet able to stop with confidence on a gentle slope
1. Beginner

❅ Bronze
Can control speed by linking turns and stopping on blue runs. Usually rides magic carpet lifts. May progress to chairlifts and other easy blue runs. Learning to match skis and skid turns.
2. Intermediate

❅ Silver

 
Able to ski parallel turns to control speed on most blue and red slopes. Working on technique in a variety of snow conditions, varying turn size and shape. Learning to carve on blue/red terrain.
3. Advanced

❅ Gold
Able to ski strong parallel turns with a pole plant on all red runs and easy black runs. Learning, short turns, off piste, moguls, powder and more difficult terrain. Can carve parallel skis more than skidding. Can vary turn size and shape as desired to control speed.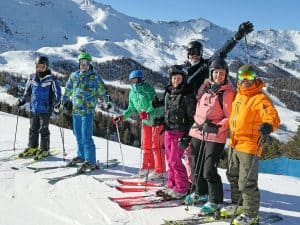 BOOK NOW