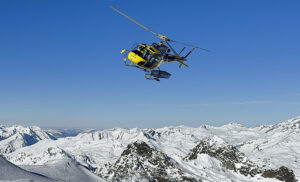 HELI-SKI SAFARI Courmayeur & Cervinia
The ultimate Mountain Experience
Our incredible heli-ski safari allows you to experience the most iconic resorts in the Italian, Swiss and French Alps, surrounded by spectacular scenery up to 360 km of ski slopes.
COURMAYEUR
⇢
LA THUILE
& LA ROSIERE
Live an adventure of a lifetime, spend 1 day skiing through Courmayeur and La Thuile / La Rosère peaks in a breathtaking ski guiding. From the pistes in Courmayeur the journey continues with a scenic helicopter flight between majestic ancient rocks to reach La Thuile. Skis are on your feet again and we continue the ski guiding on the slopes of the Espace San Bernardo with 152 km of slopes, a great mix of magnificent intermediate terrain, great reds and ferocious blacks. After enjoying lunch and wonderful views, we will be ready for the return in Courmayeur.
✓ The Heli-Ski Safari suit intermediate/advanced level skiers
✓ We depart with a minimum of 4 people
✓ Along the way, you will be accompanied by a fully-qualified Italian ski instructor
HELI-SKI SAFARI Courmayeur ⇢ La Thuile * La Rosière
€275
9:00 - 16:30
Price per skier
(MINIMUM 4 SKIERS) Price include 1 day ski guiding + helicopter round trip
PEAK SEASON (07/12 - 11/12) – (22/12 - 24/12) – (04/02 - 10/02) – (27/02 - 01/04) - (10/04 - 16/04) (every weekend): 285€ price per skier
TOP SEASON (25/12 - 08/01) – (11/02 - 26/02) - (02/04 - 09/04): 340€ price per skier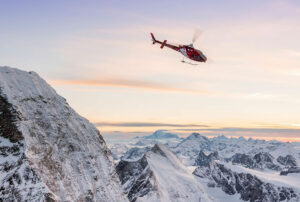 HELI-SKI SAFARI 
CERVINIA
⇢
ZERMATT
Take a Full Day Ski Guiding in Zermatt and get back to Cervinia Plateau Rosà by an unforgettable Sightseeing Flight operated by Air Zermatt. The view over the Matterhorn is out of this world! Zermatt has terrain for all ability levels. The new attraction is the Matterhorn Alpine Crossing, the world's highest panoramic 3S gondola that connects two countries (Italy and Switzerland). From vision to reality: after years of groundbreaking work, the vision of an all-season link between the world-class spa resort of Zermatt in Switzerland and the Italian village of Breuil-Cervinia has become reality from July 1st 2023.
✓ The Heli-Ski Safari suit intermediate/advanced level skiers
✓ We depart at the end our day skiing from the Heli station in Zermatt with a minimum of 3 people
✓ Along the way, you will be accompanied by a fully-qualified Italian ski instructor